Vida Eco Shop
Mooncup - Menstrual Cup
Regular price
£18.00
£0.22
Tax included.
Shipping
calculated at checkout.
Every day, c.11.8 million menstrual products are used in the UK alone with 2.5 million tampons, 1.4 million sanitary towels and 700,000 panty-liners being flushed down UK toilets. 
That's 4.3 billion disposable menstrual products per year, generating 200,000 tonnes of waste, much of it plastic.  (90% of a menstrual pad is plastic, 4 6% of a tampon.)
On top of the environmental impact, these menstrual products are often bleached and contain a cocktail of other chemicals including carcinogens.
Mooncup®
The Mooncup is a reusable menstrual cup made from hypoallergenic, medical grade silicone.  It collects rather than absorbs blood and can be easily emptied, cleaned and reused. It is the perfect comfortable, convenient, safe and eco-friendly alternative to disposable products.
It is designed to last for years so will not only save tonnes of waste, it will also save you tonnes of money!
How it works
Once the Mooncup is inside it opens up and forms a light seal with the vaginal wall which holds it in place.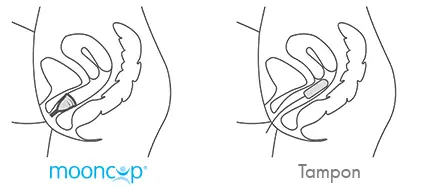 It sits lower than a tampon and works by collecting the menstrual blood. The Mooncup is held in place by the vaginal muscles and can be emptied, rinsed and reinserted every four to eight hours. It can be used safely overnight and when travelling, swimming or exercising.
Which size to choose?
Size A = If you are over 30 or have given birth vaginally no matter your age
Size B = If you are under 30 and have not given birth vaginally
Find out more on the Mooncup website
Charity
Mooncup supports a whole host of programmes both in the UK and abroad. Some examples include tackling period poverty in the UK, working with school children in Haiti, a women's health charity in Nepal, providing cups and training for women and girls in Kenya and much more. 
---
More from this collection